Counsellors & Psychologists Parramatta
Registered counsellor services
We offer a complete psychology service at our Parramatta locations, including couples counselling.

We are experienced helping clients to effectively manage a range of issues like depression or low mood, anxiety, stress and ongoing worry, anger management issues, addictions, grief, relationship issues and more.

As part of Sydney's leading network of private practitioners we are able to refer you to a specialist in the area that you are looking for assistance with. Please don't hesitate to call with enquiries about how we can assist.
Marriage & relationship counselling
We provide couple counselling for most common relationship issues.

Common presentations we work with include couples who are frequently arguing and can not find a resolution, or couples who have drifted apart and feel distant from each other.

Common trigger events also include financial stress, affairs or infidelity, addictions or alcohol use, stress, family or parenting issues as well as family issues.

Please don't hesitate to call us without obligation to find out more about how we can help.
Your first visit
Upon meeting with your counsellor, an initial assessment will be undertaken to clarify your main concerns and to shape your therapeutic plan moving forward.

This process will consist of deciding the most appropriate therapeutic modality on achieving an effective outcome, as well as understanding what you are hoping to receive from these sessions.

Our approach to your confidentiality
The counsellor treats all sessions as private and confidential, including your assessment, diagnosis or treatment. However, an exception is made to this if the file is subpoenaed by a court of law, or there is an immediate or specified risk of harm to an identifiable person's safety.
Location Information
Parramatta Office
Book Now
Office Address
Suite 4, 85 George St
Parramatta NSW 2150
Opening hours:
Mon-Fri: 9:00am – 6:00pm
Sat: 9:00am – 5:00pm
Sun: Closed
Public Transport
Parramatta Train Station
Our Services
We offer a variety of services dealing with wellbeing and mental health. Select from one of the options below for further details.
Practitioner Snapshot
Chris – Registered Counsellor & Couples Therapist
Chris is a Qualified Counsellor and Psychotherapist. He holds a Bachelor of Arts (Psychology), a Graduate Diploma of Counselling, and a Masters of Counselling and Applied Psychotherapy. Chris is also a registered member of the Psychotherapy and Counselling Federation of Australia (PACFA).
Chris has experience working with individuals, couples, families and groups, across a broad range of human issues, including relationship problems, depression, anxiety, life transitions, trauma, grief, and various mental health problems. Chris is also experienced in working with corporate clients as an EAP counsellor and mediator. Prior to completing his training in Counselling, Chris worked across the corporate and not-for-profit sectors in Human Resources Management, which gave him experience across a wide array of behavioural, relationship, performance, mental health and cultural issues.
Chris draws on a range of evidence-based therapeutic interventions, including Acceptance and Commitment Therapy, Compassion-Focused Therapy, Psychodynamic Therapy and others. He adapts his methodologies as the therapy unfolds, in line with the needs of each client.
Chris is passionate about making a meaningful and empowering difference to the lives of people in need of quality support and a brighter future. Guided by his strong belief in the curiosity, creativity and inherent strengths of his clients, Chris' approach to counselling is open, caring and non-judgemental.
Saria – Registered Psychologist
Saria is a Registered Psychologist who is warm, authentic and non-judgmental in her approach. She works collaboratively with her clients to identify the root cause of their difficulties, helping them to develop the skills and awareness to manage complex emotions, experiences and relationships.
Saria provides practical strategies while remaining flexible and holistic in her approach. She understands that each client is unique in their experiences and needs, and will tailor sessions to the individual. During the therapy process, Saria may draw on a range of evidence-based therapies, including Cognitive Behavioural Therapy (CBT), Schema Therapy, Dialectical Behaviour Therapy (DBT), Acceptance and Commitment Therapy (ACT), and Motivational Interviewing.
While Saria can support clients through many of life's challenges, she has a particular interest in working with trauma, post-traumatic stress, anxiety and panic attacks, eating disorders and body image issues, substance use, perfectionism and procrastination, relationship and interpersonal problems, mood and emotion regulation difficulties, and challenges among the LGBTQ+ and BIPOC communities.
Saria holds a Master of Clinical Psychology and an Honours Degree in Psychology from the UNSW in Sydney.
Our Quality Guarantee
As Sydney's leading network of professional counsellors & psychologists, we can help you connect with quality care fast. For over a decade, we've helped thousands of Sydneysiders find the right therapist.
Book Now
Did you know?
"Our offices are conveniently located in the heart of Parramatta"
Sydney's most trusted network
With a wealth of experience and a board of certified professionals, you know you're in safe hands.
Book at Parramatta
Our Locations
We have locations throughout Sydney and its surrounds. You can also access counselling through Zoom and Skype.
We also offer online therapy
Online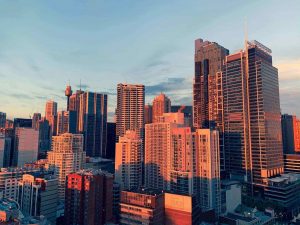 City
Eastern Suburbs
Western Sydney
Inner West
Hills District
North Shore
Northern Beaches
Sutherland Shire
St George
Wollongong
Central Coast