Surry Hills Psychologists & Couple Counsellors
Our facility
Our service is unique in Surry Hills. Our purpose built offices house a range of expert Counsellors & Psychologists to help you with life's challenges. As part of Sydney's premier network of privately practicing therapists, we can find the right person for you to talk to.
Our service
We offer individual counselling for most issues as well as marriage & relationship counselling. Our clinicians include highly experienced therapists with expertise in the treatment of eating disorders, sexual issues, depression, anxiety, anger, stress, relationship matters and most other emotional health concerns.
Location Information
Surry Hills Office 1
Book Now
Office Address
302/88 Foveaux St
Surry Hills NSW 2010
Tel: (02) 8094 1790
Opening hours:
Monday – Friday : 8am – 9pm
Saturday : 8am – 4pm
Parking access
There is plenty of street parking. Our nearest cross street is Riley Street. You can find free 1hr and 2hr parking on Little Riley and Riley Streets and metered parking on Foveaux Street.
If you are attending the offices outside of normal business hours please arrive on time and the clinician will let you in to the security building at the ground floor
Public Transport
Our office is a five minute walk from Central Station and a short walk from the Light Rail on the Devonshire Street.
Our Services
We offer a variety of services dealing with wellbeing and mental health. Select from one of the options below for further details.
Surry Hills Office 2
Book Now
Office Address
Suite 324/410 Elizabeth Street
Surry Hills NSW 2010
Opening hours:
Thursday : 2pm – 7pm
Saturday : Closed
Public Transport
Central Train Station
Our Services
We offer a variety of services dealing with wellbeing and mental health. Select from one of the options below for further details.
Counsellor Snapshots
David – Psychotherapist & Counsellor
David is a highly skilled counsellor and psychotherapist, who holds a Masters of Counselling and Psychotherapy, and a Bachelor of Arts in Philosophy.
As a counsellor, David is passionate about helping his clients take charge of their lives. He provides a safe and supportive environment where his clients can explore their concerns, patterns, and relationships in order to make lasting change.
David is experienced working with a broad range of presentations, including clients with anxiety, trauma, addictions, sexuality issues, anger problems and depression. He has also worked as a gambling addiction counsellor for a number of non-profit organisations, and is trained in helping clients with various addictive behaviours.
David is trained in a range of therapeutic techniques, including Dialectic Behaviour Therapy, Cognitive Behavioural Therapy, Psychodynamic Therapy, Narrative Therapy and Gestalt. Rather than applying a one-size-fits-all approach, David adapts the therapeutic technique to each individual client and his/her particular needs.
Paula – Psychologist & Couples Counsellor
Paula is a Registered Psychologist who works with both couples and individuals from adolescence to adulthood. Paula is practical and structured in her approach to therapy, while also bringing a sense of warmth and compassion to each session.
Paula emphasises the importance of developing productive working relationships with each of her clients, collaborating to establish clear goals and helping her clients take the necessary steps to achieve them.
Paula started her career as a district school counsellor before moving on to work in private practice. She has also worked within universities and provided psychological consulting for the law courts.
She has a special interest in mood and anxiety disorders, as well as workplace issues, relationship and family dynamics, parenting and adolescent issues.
Paula will mainly draw on Cognitive Behavioural Therapy (CBT) with her clients, but is trained in a range of proven therapies so she can tailor her approach to each client's needs. She holds a Master of Applied Psychology, a Master of Education (Counselling Psychology) and a Master of Mental Health (Adult).
Diana – Counsellor & Relationship Therapist
Diana is an experienced Counsellor and Psychotherapist who provides tailored therapeutic support to individuals, couples, families and children. Having worked in both Australia and the UK with clients from diverse social, ethnic and cultural backgrounds, Diana approaches therapy with an open mind and an awareness that every individual is influenced by their unique context and background.
Both personable and professional in her approach, Diana creates a safe and supportive therapeutic environment, creating opportunities for deep introspection and increased self-awareness, while providing practical strategies to create change. She is experienced helping clients with a variety of emotional, mental health and relational issues, including anxiety, depression, trauma, grief and loss, addictions, sexuality and gender identity issues, parenting and relationship challenges or breakdown.
Diana She endeavours to help each of her clients develop the increased self-awareness and coping skills they need to create profound change in their lives and achieve their personal goals. She holds a Master of Counselling and Psychotherapy and has clinical registration with the Psychotherapy and Counselling Federation of Australia (PACFA), as well as the British Association of Counsellors and Psychotherapists (BACP).
Krystal – Registered Counsellor
Krystal is a caring and compassionate counsellor who believes in the potential of her clients to work through their concerns and create positive change. Through her holistic, strengths-based approach, she strives to make a difference in the lives of each of her clients.
Krystal has worked as a counsellor and mental health practitioner in a variety of settings around Australia, including community services, the education sector and private practice. She is experienced supporting clients with depression, anxiety, grief and loss, anger management, relationship issues, family issues, gender and sexual identity issues, addiction and trauma. Krystal has also worked extensively with women and children who have experienced domestic and sexual violence. She is trained in child and adolescent mental health, as well as Eye Movement Desensitisation Reprocessing (EMDR) therapy for trauma.
Geraldine – Registered Mental Health Social Worker, Relationship Counsellor & Family Therapist
Geraldine is a Registered Mental Health Social Worker and Counsellor with over 20 years of experience working with individuals, couples and families. She is passionate about empowering her clients to overcome their challenges, and she believes this is best achieved by fostering an authentic therapeutic relationship and creating a non-judgmental, supportive therapeutic environment.
In her work with individuals, Geraldine has extensive experience assisting with issues such as depression, anxiety, stress, workplace conflict and bullying, grief, anger, and family of origin concerns.
She is also a highly experienced and skilled relationship counsellor and has helped couples address a variety of challenges, including conflict, infidelity, relationship ambivalence, communication problems, intimacy issues, bereavement and life transitions. As well as supporting her clients in private practice, Geraldine regularly trains other counsellors in couples counselling techniques. Geraldine primarily utilises Cognitive Behavioural Therapy (CBT) and Systemic and Family of Origin therapeutic modalities in her therapy. However, she adapts her approach to the individual and understands that every individual and situation is unique.
Geraldine works from our second Surry Hills office, in Elizabeth St.
Geraldine holds a Bachelor of Social Work and a Master of Social Work in Couple and Family Therapy.
Our Quality Guarantee
As Sydney's leading network of professional counsellors & psychologists, we can help you connect with quality care fast. For over a decade, we've helped thousands of Sydneysiders find the right therapist.
Book Now
Did you know?
"Our Surry Hills team have an average of 12 years experience."
Sydneys most trusted network
With a wealth of experience and a board of certified professionals, you know you're in safe hands.
Book at Surry Hills
Our Locations
We have locations throughout Sydney and its surrounds. You can also access counselling through Zoom and Skype.
We also offer online therapy
Online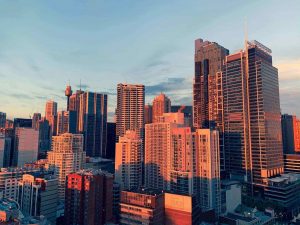 City
Eastern Suburbs
Western Sydney
Inner West
Hills District
North Shore
Northern Beaches
Sutherland Shire
St George
Wollongong
Central Coast