Registered Counsellor Wollongong
Marriage counselling & psychologist services
Our psychologist services can help with a broad range of issues. We offer professional marriage & relationship counselling as well as individual counselling.

All of our counsellors have had many years of experience helping their clients to more effectively manage common difficulties such as anxiety, depression, relationship issues, grief, stress and anger management.

Our counsellors are bound by ethical codes of conduct and are trained in a variety of therapeutic approaches and disciplines including Cognitive Behavioural Therapy (CBT), Psychotherapy, Acceptance and Commitment Therapy (ACT) and other change modalities. At Associated Counsellors and Psychologists Wollongong your health and happiness is our concern - you can be confident that you are in good hands.
What can i expect from my first visit?
At your initial appointment your counsellor will discuss your concerns and conduct a comprehensive initial assessment. They will also talk to you about your goals and the relevant counselling treatments that can be applied to your situation for the most effective outcome. A plan may be made for future sessions including regular reviews and evaluations of progress.


Depending on your situation, your counsellor may also suggest and discuss some techniques and strategies that can be applied immediately to assist in dealing with any challenges you may be currently facing. In this first session, you can feel comfortable raising any questions or concerns you may have. Your initial session and all subsequent sessions will be just under one hour in duration.
How many counselling sessions will I need?
The amount of sessions you need will vary depending on your situation, however on average a client will visit a Psychologist for 6-12 sessions. You may choose to engage in longer term counselling to deal with more entrenched issues or personality styles that have played a large part in your life for a longer period of time.
Fees and rebates
Costs will vary depending on which counsellor you see. Just give us a call to enquire or fill out our call back form and we will call you. Your private health insurance or Medicare may cover Psychologist services, so be sure to check your extras cover with your insurer or ask us to find out more about the Government rebates available.
Confidentiality
Your will treat all sessions as private & confidential, including any information regarding your assessment, diagnosis or treatment. Exceptions to this confidentiality apply only if the file is subpoenaed by a court of law, or there is an immediate or specified risk of harm to an identifiable person's safety.
Location Information
Wollongong Office
Book Now
Office Address
81 Keira St
Keiraville NSW 2500
Tel: (02) 4210 6170
Opening hours:
Mon-Fri: 9:00am – 7:00pm
Sat: Closed
Sun: 9:00am – 12:00pm
Parking access
On-street parking
Our Services
We offer a variety of services dealing with wellbeing and mental health. Select from one of the options below for further details.
Counsellor Snapshot
Ramsay – Counsellor, Psychotherapist & Relationship Therapist
Ramsay is a qualified Counsellor and Psychotherapist, professionally registered with the Psychotherapy and Counselling Federation of Australia (PACFA). He has worked with organisations such as Relationships Australia and The Metavision Institute, where he teaches trainee psychotherapists.
Ramsay has supported clients with a range of concerns including anxiety, depression, anger, grief, relationship issues, trauma, abuse, addiction, social issues, changing identity, among other emotional and psychological concerns. Being trained in holistic counselling and process-oriented psychology, Ramsay takes a highly personalised and non-judgemental approach with his clients. He is accepting of each person's unique needs and experiences. With Ramsay's support, clients can explore both conscious and unconscious processes in order to gain a deeper understanding of themselves as an individual, couple or family.
Ramsay has worked with clients of all ages and many cultural and social backgrounds, having worked and trained in the United States as well as Australia. He still maintains clients from around the world, including the USA, Asia, New Zealand and India.
Ramsay holds a Master of Process Oriented Psychology, a Graduate Diploma of Holistic Counselling and Psychotherapy, a Diploma of Applied Counselling and Psychotherapy, and a Bachelor of Creative Art.
Our Quality Guarantee
As Sydney's leading network of professional counsellors & psychologists, we can help you connect with quality care fast. For over a decade, we've helped thousands of Sydneysiders find the right therapist.
Book Now
Our Locations
We have locations throughout Sydney and its surrounds. You can also access counselling through Zoom and Skype.
We also offer online therapy
Online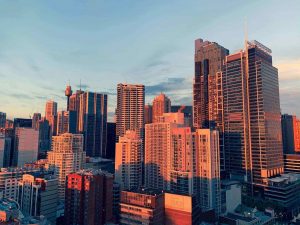 City
Eastern Suburbs
Western Sydney
Inner West
Hills District
North Shore
Northern Beaches
Sutherland Shire
St George
Wollongong
Central Coast